Did you know just under half (46%) of people said that a website's design is their main reason for determining the credibility of a business or organisation? (Newcred). That's a lot of people! With this in mind web designers constantly strive to implement new and exciting features onto websites to improve user experience and ultimately increase conversions. Some less effective than others of course (we're looking at you scroll-jacking)!
So here's our list of what we consider the most popular web design trends of 2015.
Prominent Call to action buttons
A prominent button on your website that prompts your users to take part in an "action" can come in variety of ways, including allowing your customer to sign up to your newsletter or a (CTA) as simple as an add to cart function. Call to actions buttons are a great tool to persuade your customers to take action in your products/services and hopefully it will help generate more sales and traffic to your website. Amazon's buy with 1-Click is an extremely popular CTA button as it speeds up to the process of e-commerce for customers.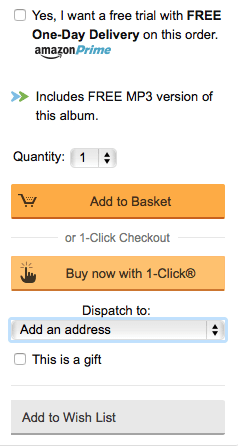 image courtesy of www.amazon.co.uk
Microinteractions
Ever liked or shared anything online? That's a microinteraction right there. Whether it's a liking a cat video on Facebook or a sharing a news story, these interactions are an integral part of all websites and should be implemented in a subtle way. Generally we don't notice these interactions until they go wrong, but sometimes they can be elevated to highly useable features. For example, YouTube automatically pauses the video when a user decides to report it.
One Page websites
Another fairly popular trend in web design is taking advantage of having a one page website, that is, all the website pages on one long scrolling page. Website designs in 2015 have seen an insurgence of longer scrolling pages, why? Because users are now preferring to read the content on one single scrolling page as it's more natural and it keeps them enticed to read the entirety of it. Hopefully this is the start of the end for gallery-view websites that insist on showing one page per sentence.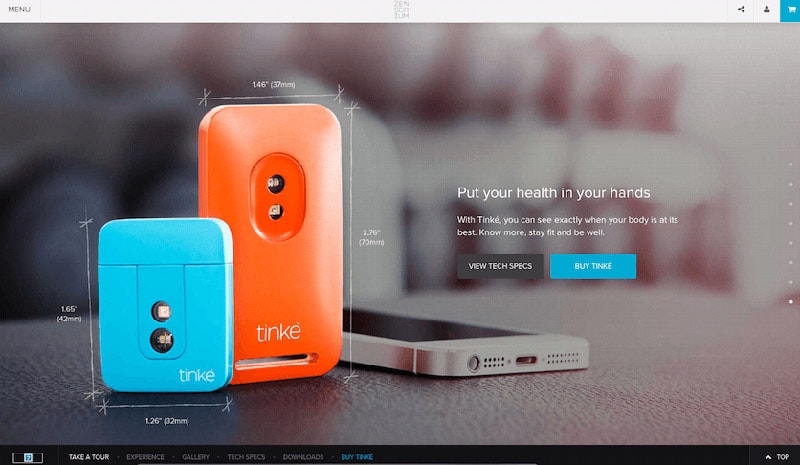 image courtesy of https://www.zensorium.com/product-tinke.html
User Experience (UX) Design
UX design is a process that designers use to enhance the customer experience or their satisfaction. This method of design involves creating an interactive and user-friendly journey for customers. According to research by Econsultancy, 88% of online customers are less like likely to return to site after a bad experience. Urban Outfitters have incorporated some stunning UX design on their website: when looking at a product; you can do 360° view of the product. Customers can also zoom in on the products to see them in more detail.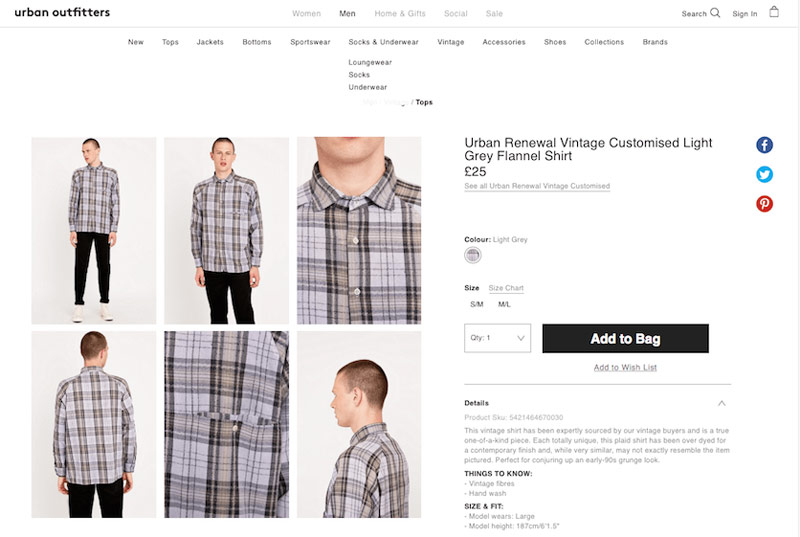 image courtesy of www.urbanoutfitters.com
Ghost buttons
Ghost buttons are transparent and empty buttons which consist of basic shapes such as rectangles or squares. It also includes a very thin outline and then text would then be inserted inside of the box. This sleek, simple technique can really make your content stand out.
Card design (Modular)
Pinterest famously started this trend and now it's practically everywhere on the web. By having cards as a design layout, it gives users a chance to easily read digestible information. This trend has also had a huge impact when it comes to designers creating mobile-friendly websites as it allows for simple navigation. This technique is also excellent for sharing content easily, just look at Google Cards.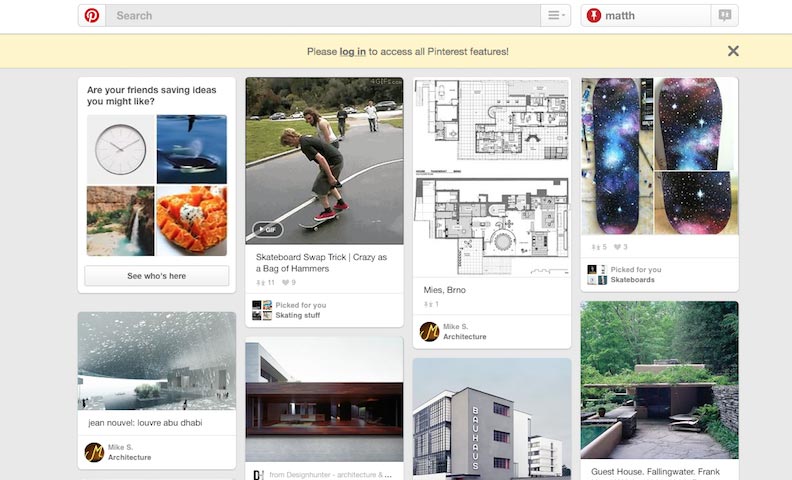 image courtesy of www.pinterest.com
Responsive Websites
In April 2015, Google announced that mobile friendly websites will be a ranking factor on mobile phone searches. That is, mobile friendly sites will rank higher than non-mobile friendly sites when searched from mobile devices. Responsive design has enabled designers to create experience optimised for the device being used, whether it be a tablet,  a mobile phone or a super high resolution monitor.
Hamburger Menu Icon / Mobile Menu on Desktop
With the growth of responsive design, the hamburger icon has become ubiquitous. For the majority of users, it's an intuitive way to present the navigation on smaller devices, but for a significant few it can result in the menu being overlooked. The general method involves hiding the navigation, only to show it when the hamburger icon is clicked. Studies show that the word "menu" is more effective – anecdotally we've had 3 clients call up in the last few months reporting that their menu had disappeared, all because they didn't understand the purpose of the hamburger icon.
Minimalist design
Minimalist design involves a very clutter-free approach to design, which is ideal for the creative industry as it allows your work to do the talking rather than copious amounts of text. If you are going to utilise this type of design, then you must ensure that you have a clear message on what your website involves, whether you're selling a product/service or providing information.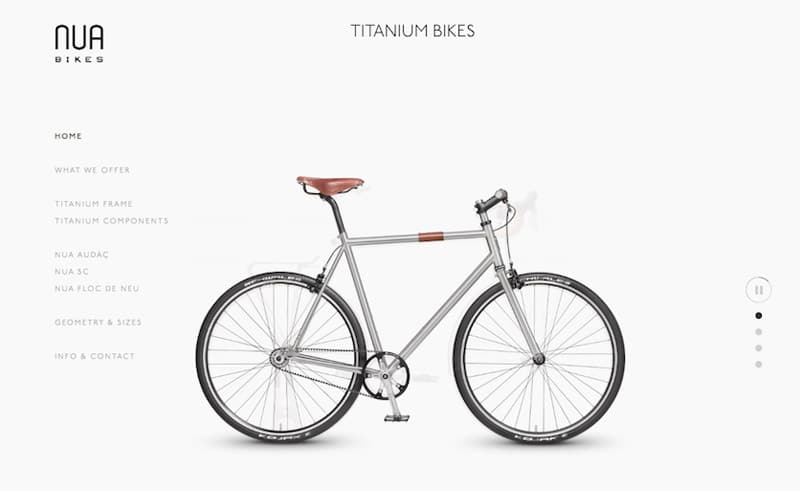 image courtesy of http://www.awwwards.com/web-design-awards/nua-bikes
Hero Images
Hero images have seen an increase in popularity of the last few years; they are basically extra large background images. Designers are using this type of image either to enhance a product/service that they're selling or to make their brand more personal by using images of themselves or their team. This has meant that stock images on websites are being used far less as they come across cheesy and unnatural.
Parallax Effect
This trend first appeared in video games, Super Mario Bros 3 being one of the first games to use this method. The concept is pretty simple: move the background layers at different speeds to give the effect of depth to a 2D scene. It's now made its way into web design, which implemented in a subtle way,  can be great to engage with your customers through online storytelling.
One to avoid: Scroll-jacking
Scroll-jacking is when you scroll on a page but you have no control of the speed that goes at, sometimes you scroll and everything disappears from the screen which can extremely frustrating for the user. Done incorrectly, the page appears to scroll in slow motion, or worse, not at all.  Generally these sites work well in a few situations, but are potentially damaging the user experience for users that fall outside this group as they can't interact with the content in the way that they desire.
Trends come and go, but a strong brand along with an interactive website will keep users visiting for years. The trends featured in this blog can be used for your new bespoke website; we offer bespoke websites that will help benefit the overall customer experience of your website.
Can you think of any more web design trends? What do you think of our list? Let us know, we'd love to hear from you.